'Abdu'l-Bahá's travels
Oakland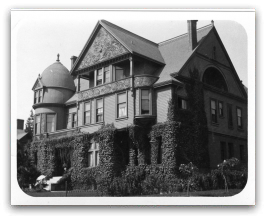 On October 2, 'Abdu'l-Bahá met the Bahá'ís in Mrs. Goodall's home in Oakland. He told the gathered friends, "I have come from the Orient to the Occident - this vast distance have I crossed…simply to meet you…for the hearts are connected and the spirits are exhilarated…Praise be to God! We have assembled here, and the cause of our gathering here is the love of God."
When 'Abdu'l-Bahá arrived in Oakland, the Japanese Bahá'í Kanichi Yamamoto, also known as Moto "had the privilege of living in this home and serving Him during those glorious days." Moto arranged a meeting for 'Abdu'l-Bahá to speak at the Japanese YMCA on October 7. The president began the meeting by reading a scripture lesson in Japanese, which was followed by the singing of Nearer My God to Thee, also in Japanese. Mr. Kanno, a Japanese poet and philosopher, then gave a short talk which he concluded with a poem to 'Abdu'l-Bahá. 'Abdu'l-Bahá talk was in Persian, translated by Dr. Fareed into English, which the Rev. Kazahira retranslated into Japanese. As He left, mothers in the audience held out their babies which He blessed saying, 'Good baby; Japanese baby.' From that time on some of the Japanese inquirers were present in almost every gathering.
In the afternoon of October 11, 'Abdu'l-Bahá was driven to Mrs. Goodall's house in Oakland for the observance of Children's Day. A large group of children had gathered and when He arrived they greeted Him by the singing of a song by Louise Waite, Softly His Voice is Calling Now. He gave candy and flowers to the children, speaking to each in short English sentences, and to everyone there He gave an envelope containing rose leaves. After the children's meeting, 'Abdu'l-Bahá went for a walk and visited a neighbour. The lady brought Him a chair and they sat together for a while. He was pleased with the woman's reverence and thoughtfulness.
On the evening of October 12, 125 were present for the Nineteen Day Feast at the home of Mrs. Goodall in Oakland. The friends played the piano and sang before the meeting. Then 'Abdu'l-Bahá anointed each guest with attar of roses and served them Himself, speaking afterward of spiritual development. He remained in Oakland overnight.
Talks and Stories
News and Photos