Stories about 'Abdu'l-Bahá
Mahmud: May 6 — Crowds in Cleveland Learn of Prosperity, Spiritual Civilization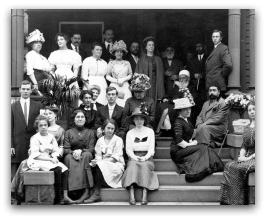 'Abdu'l-Bahá left Chicago for Cleveland in the morning. As He was leaving, Bahá'ís and non-Bahá'ís surrounded Him like moths around a light, their hearts burning with thoughts of separation and tears flowing from their eyes.
The train reached Cleveland in the afternoon. Many friends and newspaper reporters were at the station to welcome Him. The reporters photographed Him with His companions and asked for an interview.
After making arrangements at the Euclid Hotel for His stay, 'Abdu'l-Bahá gave the reporters permission to visit. He gave them an account of the history and teachings of the Cause. One of them questioned Him about His mission. He replied:
My message is the oneness of humanity and universal peace; the harmony of true science and religion; the equality of rights; the elimination of religious, racial and political prejudices; the truth of all the divine religions; the removal of religious imitations and superstitions; the education of women to such a degree that they may have equal rights with men; the adjustment of the economic condition of all people so that if a rich man enjoys honor and affluence, the poor man may also have a mat to lie on and a house to dwell in; the establishment of spiritual civilization; the reformation of human morals; the unity of all religions, so that when the people of the world recognize the truth of all religions, they may become united since truth is one — if they follow imitation, war and dissension shall remain, because imitations are the cause of differences.
After an hour, He left the hotel for Dr Swingle's home for a meeting with the Bahá'ís. After He had some tea, He entered a room that was filled to capacity. He spoke to the friends about the prosperity of America and the perfecting of material civilization with spiritual refinement, the rising of the Sun of Truth, the raising of the divine call and spreading the teachings of God. The friends were deeply moved and full of admiration. Through their meeting with Him, they had found new life. At the beginning of the meeting, a photograph was taken of Him with His companions and some of the friends.
In the evening, the auditorium of the Euclid Hotel was full and there was standing room only. About five hundred Bahá'ís and non-Bahá'ís were enchanted by His charm and speech. The meeting began and ended with music. The audience was most appreciative of 'Abdu'l-Bahá's talk on the necessity of religion, the dangers of war and the benefits of love, unity and harmony.