'Abdu'l-Bahá's travels
Cleveland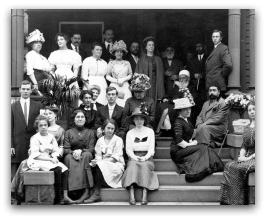 On May 6, 'Abdu'l-Bahá left Chicago for Cleveland, OH. When He arrived that afternoon, He was met by many of the friends and newspaper reporters. The newspaper headlines read as follows:
GIVES NEW CREED TALK - Cleveland Plain Dealer
'Abdu'l-Bahá was expected to set up a branch of the Faith in Cleveland.
BAHAISTS TO HEAR VENERABLE LEADER - Cleveland Plain Dealer
WED RACES? SURE… - Cleveland News
'Perfect results follow the marriage of black and white races. All men are the progeny of one…They are of different colors, but the color is nothing…I believe 'Abdu'l-Bahá is absolutely right. It is inevitable that all races will unite…It is the only logical conclusion.'
BAHAIST APPROVES UNIONS OF RACES - Cleveland Plain Dealer
'Abdu'l-Bahá, however, told them, 'My message is the oneness of humanity and universal peace..' and that evening gave a talk in the auditorium of His hotel to over 500 people. There was standing room only and the audience was "enchanged by His charm and speech."
'Abdu'l-Bahá left Cleveland the following morning.