Stories about 'Abdu'l-Bahá
"The Sun of Truth has risen always in the East and yet it has shone with greater luster in the West."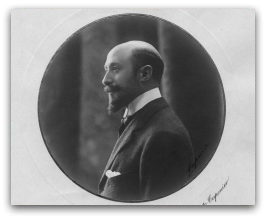 The esteemed Bahá'í Monsieur Dreyfus of Paris came to visit the Master. One of the Master's talks at the meeting of the friends was about services beneficial to the world of humanity. 'Universality is of God,' He said, 'while every limitation is human.' Continuing, He said, 'The Sun of Truth has risen always in the East and yet it has shone with greater luster in the West.' Mr. Kaufman remarked that he had read in the newspapers about the Master's journey to the West and understood that the purpose of His journey was for the upliftment and education of the West as well as of the East. Mr. Kaufman then asked, 'Will the East regain its former glory?' The Master replied, 'It will be greater than before.' The Master then spoke about eternal life and everlasting honor and said:
How many great men have come into the world! What wealth they have owned! What kings have sat on the thrones of glory and riches! What beautiful and comely people have adorned the world of man! But what has been the outcome? Honor, life, luxury and pleasure have all perished. But the fame of the beauty of Joseph is still universal and the honor of the disciples of Christ still endures; their sufferings are the cause of life everlasting.
At dinner a number of the Eastern and Western friends were at the Master's table. Mrs. True and some other friends asked His permission to serve the guests, which He gave.