Stories about 'Abdu'l-Bahá
Invitation from the Consul General of Turkey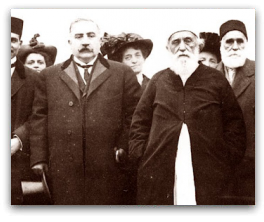 'Abdu'l-Bahá received an invitation from the Consul General of Turkey. After meeting with the friends and expressing His happiness at their devotion and unity, He left for the Consul's home. He took the ferry across the water, then a tram and arrived at the Consul General's house. The Consul himself had gone to meet the Master by another route but his wife and relatives received Him with the utmost respect and reverence until the Consul General returned.
A number of prominent men and statesmen, as well as the Consul General, were present. The Master rested for a short time in one of the rooms. Then the Consul General, praising 'Abdu'l-Bahá, introduced Him to the audience. The Master came to the table and spoke on the danger of wine and alcohol. He then considered some philosophical subjects and answered questions from the Consul's wife about misconduct and its harmful consequences. She was pleased and when He was about to depart expressed her gratitude by kissing His hand. Everyone begged His pardon for any lack in their service to Him.
The Consul General's brother-in-law requested and obtained permission to take the Master's photograph. The Consul General then accompanied the Master to the railway station to see Him off, even though 'Abdu'l-Bahá had asked him not to do so.
At a gathering of Armenians in the evening the Master gave a stirring and impressive talk concerning the attributes of the world of humanity, spiritual courage and valor. His talk was not recorded because we arrived at the meeting late.