Stories about 'Abdu'l-Bahá
"I pray that you may become the candle of New York, spreading the Light of Love all around you."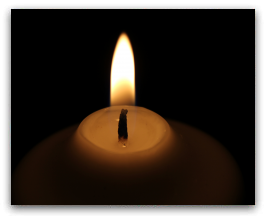 The Diary of Juliet Thompson
The last time I talked with the Master was the day before He left. Sure that He was to leave that morning, the twenty–second, I went very early to His house, with eight palm-leaf fans in my hands. Mamma had sent them for the Master and the Persians to use on the hot journey.
The master was sitting in the English basement at the window. He called me to a chair opposite Him. "What are all those for?" He asked, laughing, waving His hand toward the fans.
I laughed too, for they did look funny. I explained their purpose and that they were from Mamma.
For a while I sat in silence before Him. Then suddenly I realized that He was about to leave us, that in just a few minutes He would be gone. I began to cry quietly.
"Tell Juliet," laughed the Master, "that I am not going today."
At this the sun came out! But soon by tears were flowing again, this time because His love was melting me.
"Why are you crying, Juliet? I am not going today!"
---
In the afternoon He called me to Him and I had twenty minutes alone with Him and Valiyu'llah Khan. I sat with over-brimming eyes, drinking in the Glory of His Presence.
"Oh Valiyu'llah Khan," I said, "say to the Master for me that I know He is the Sun and I pray He will always encircle me with His rays."
"You are very near Me," He answered, "and while you speak the truth you will always be with Me. I pray that you may become the candle of New York, spreading the Light of Love all around you."
After this we sat silent in His Presence, silent for a long time.
Once again He saw me when Marjorie came. He told her she was my child, my "little chicken" and said we must comfort each other after He has gone.