Stories about 'Abdu'l-Bahá
Juliet manages to say good-bye to 'Abdu'l-Bahá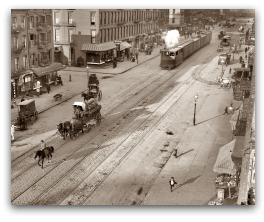 The Diary of Juliet Thompson
I went up early to His house — but oh, too late! On the street I met Mrs. Hutchinson.
"The Master has gone!" she said, her eyes full of tears, her lips quivering.
"When?"
"Twenty minutes ago."
"I will go to the station."
I jumped on a subway train and reached the station in a few minutes. But nowhere did I see the Master and the Persians. I stopped a porter.
"Did a party of foreigners pass through here just now?"
"Egyptians?"
"Yes!" There wasn't a minute to explain.
"Yes. Go to track 19."
But track 19 was deserted except for the gateman.
"Has a party of foreigners passed this way?" I asked him.
"Turks?"
"Yes."
"They are on the train."
"I supposed I couldn't go through?"
"Yes, go through, but come right back."
Smiling my thanks, I dashed down the platform. At one of the windows in the train I saw a white turban.
"Could I get on the car?" I asked the conductor.
"Yes, get on. It's all right."
---
"Ah-h, Juliet!"
"Goodbye, my Lord."
"Goodbye." He drew me down beside Him. "You should not have troubled to come here," He said.
"My heart wouldn't let me do otherwise."
"I will see you in a month. Give My greetings to your mother, to all the friends; to Mrs. Krug, Miss Boylan."
Closely, closely He pressed my hand, pouring the attar of rose of His Love upon me. Then once more He said goodbye and I left.
It had been too bold, yet even against the rules every door had opened to me.