Stories about 'Abdu'l-Bahá
Agnes: May 10 – U.S. Capitol and Washington Monument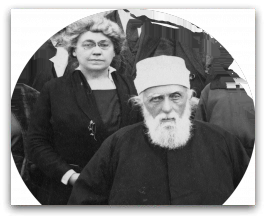 The next day, Friday, I sent my carriage to the apartment. 'Abdu'l-Bahá and others drove to the office of the Orient-Occident Unity. Before this Mr. Theodore Spicer Simon (Medalist) had called at my house to see 'Abdu'l-Bahá, but not finding Him, went to the apartment, where 'Abdu'l-Bahá gave him a sitting of half an hour. This with a few sketches was all Mr. Simon had, but from these he has made an excellent likeness.
I went down in the car to meet the party at the Orient- Occident Unity office. I found Mirza and Mme. Khan and the two older children. Mr. and Mrs. Belmont, Mr. and Mrs. Hannen, Mrs. Struven and others. 'Abdu'l-Bahá drew me over to sit near Him and spoke of the importance of consultation in all the work done by the Bahá'ís. At the close of the talk Mirza Sohrab brought in a cup of coffee to 'Abdu'l-Bahá, after which 'Abdu'l-Bahá, Dr. Zia Baghdadi (who came from Chicago with the party), Dr. Fareed and I drove to the Capitol. 'Abdu'l-Bahá expressed a wish to go inside, where He examined the statuary and paintings, then we walked on the grounds and sat for a short time near a large tree. We also drove to the Washington Monument, and went up to the top in the elevator. 'Abdu'l-Bahá looked with great interest out of each window. I bought a pamphlet, describing the monument, giving pictures etc. and etc. which was sent to Moneer Khanom.[Munirih Khanum, the wife of 'Abdu'l-Bahá, who remained in the Holy Land during His visit to America.]
When we returned 'Abdu'l-Bahá had a little rest in the lower room before lunch and afterward went to His room where He rested until the 4 o'clock meeting. Dr. Hamilton Wright and Dr. Fremont Smith had arranged for an interview, but were not able to keep the appointment. They had met 'Abdu'l-Bahá at a previous meeting and each had expressed a desire to ask questions.
Among those who were present at 4 o'clock were Dr. Tom Williams, Col. and Mrs. Hopkins, Mrs. Wainwright, Mrs. Lane, Mrs. Hobson, Mrs. Rockwood Hoar, Mrs. Pinchot, Mrs. Richardson and Mrs. Tyson of Baltimore.
'Abdu'l-Bahá motored with Mme. Dreyfus and was then taken to the Studio Hall where He spoke — had a ten o'clock dinner at Mrs. Hemmick's, where I started to see Him, after attending the Memorial Services to Mr. F. D. Millet, but just before I reached there, I met some of the Persians, who told me 'Abdu'l-Bahá had gone home.
I returned to my house to find Him waiting to say goodbye. Mr. Parsons was with Him. After a short talk He said goodnight, leaving with me a draft contributed to … the Bahá'í Temple that was to be constructed in Wilmette, Illinois.