Stories about 'Abdu'l-Bahá
Mahmud: May 11 — Returning to New York City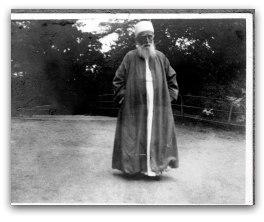 The Master made preparations to leave for New York. Some people who had not been able to see Him previously came to visit and He spoke to them about His journey and the spreading of universal peace, which is one of the commandments of Bahá'u'lláh.
'Abdu'l-Bahá left for the railway station, where several believers were waiting to bid Him farewell. They were down-hearted at being separated from their Beloved, who had showered them with such kindness and blessings.
In New York, the friends who were waiting for the Master took Him to the Hudson building on Riverside Drive where He was to stay. He said to them:
We went to Chicago and Washington and now we have come back again. Time passed very pleasantly. The people of America are highly accomplished. They desire to acquire understanding and they wish to make progress. When one sees a tree growing, one should feel hopeful that it will give flowers and bring forth fruits. People asked questions and on hearing the answers they contended no more. Most of the ministers who came would express agreement. Those who asked us questions on important topics were delighted on hearing the answers. The religious leaders of other countries are not so inclined but are more bent on contention. We met very good ministers in Chicago. Some invited us to their churches and we had lengthy conversations with them. One of them, Dr Milburn, invited us to supper at his home. My purpose in mentioning all this is to convey that all showed agreement and acceptance.

Just yesterday we spoke in Washington with a number of notable persons, judges, and also a friend of Roosevelt. As we were talking about the unifying influence of different religions, and concord among nations, this friend said that Christ was a source of differences. But when we explained to him the coming together of different nations under the canopy of the word of Christ, he smiled and accepted the point. Others, too, expressed great delight. When I asked him if he had any other question or objection, he replied that he had none at all. When asked if he accepted all these statements, he said, 'All right.'
When the Master spoke the words 'all right' in English, the friends were amused and a ripple of laughter went around the room. He then spoke about the unification of the blacks and whites of America.
That evening at a public reception at His home, 'Abdu'l-Bahá spoke about the divine favors bestowed on the people of Bahá and encouraged the friends to be grateful for such bestowals and blessings.