Stories about 'Abdu'l-Bahá
Agnes: May 9 – Meeting a number of prominent individuals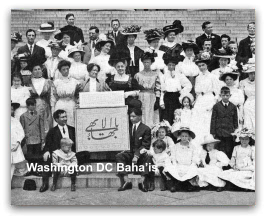 On Thursday morning I sent the carriage for 'Abdu'l-Bahá to take a drive. He arrived at my home at a quarter to one, when He had a private interview with Mrs. Boyle. At 1:30 we had lunch. Having heard that 'Abdu'l-Bahá liked strawberries I ordered them for dessert, but He declined to take any, so I said: "Will you go now and rest and not wait for us?"
"God bless you for that suggestion, I am very tired" He replied, so He went up to the room He had occupied before (the chamber on the Southeastern corner) and rested splendidly until nearly four o'clock.
At 4 P.M. He spoke to a group — Mrs. W. L. Fisher, Mrs. F. K. Lane, Mrs. Danforth, Ex-Justice Henry Billings Brown, Mr. and Mrs. William D. Fonlke, Miss Gwendolyn, Dr. and Mrs. Gehring, Mrs. Richard Wainwright, Mrs. Leonard Wood were among the number.
At 6 o'clock I had ordered the carriage to take 'Abdu'l-Bahá for a drive. I did not go but heard they went to Chevy Chase. The meeting at 8:30 P.M. in the large room on entrance floor was very crowded — many had to stand. During the meeting Mr. Joseph Millet arrived to stay with us, in order that he might attend the commemorative services to be held on Friday night in honor of his brother and our dear friend, Frank Millet. After certain people had greeted 'Abdu'l-Bahá individually He went to the library to speak to Mr. Millet. Mr. Millet told me afterward, that 'Abdu'l-Bahá had said very comforting things to him. Afterward 'Abdu'l-Bahá had a private interview with Miss Marsland and I was told stopped at Mrs. John J. White's on the way to the apartment.