Stories about 'Abdu'l-Bahá
Talk at the Japanese Club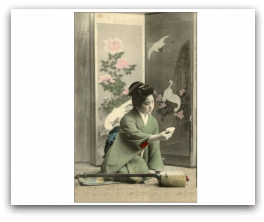 After many similar talks, the Master returned to San Francisco. A meeting was especially called in the evening at the Japanese Club to hear Him speak. As the meeting began, a Japanese scholar stood up, and after obtaining permission from the Master, recited in English an ode about the attributes of the Cause of God and praising 'Abdu'l-Bahá. The chairman then introduced the Master with great respect.
The Master then gave a fascinating talk on the dangers of prejudice, the validity and proofs of the Prophets and the truth of Islam and Christianity. He also spoke on the spread of the Cause of God, the influence of the divine teachings and spiritual education, as well as explaining the teachings and writings of Bahá'u'lláh. Even though the talk was first translated from Persian into English and then from English into Japanese, the audience was awed and excited to hear His powerful reasoning and was anxious to hear the translation of the talk.
From this day forward multitudes came every day in great humility to see 'Abdu'l-Bahá and to offer praise and thanks for the teachings.