Stories about 'Abdu'l-Bahá
Speaking at a joyful and enthusiastic gathering of the Theosophical Society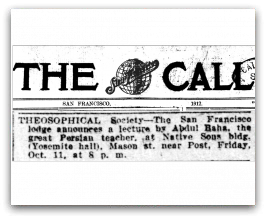 In the evening the Master spoke before a joyful gathering of the Theosophical Society. The president of the society introduced 'Abdu'l-Bahá in glowing terms, referring to the appearance of perfect souls and divine manifestations, saying:
Each of those teachers was an educator of the world of humanity and each brought a Book for the training of the souls. This evening we have the exalted honor to have one of these educators among us. He has brought a new Message for the evolution of humanity and will speak to us this evening. I have the utmost honor to introduce to you His Holiness 'Abdu'l-Bahá, whom you know well.
The Master then spoke about the rising of the Sun of Reality from different signs of the zodiac, the immortality of the spirit and the universality of the new Revelation. The audience was very interested and requested His permission to ask questions. Their enthusiasm and admiration was heightened when they heard His persuasive answers.