Stories about 'Abdu'l-Bahá
Receiving many visitors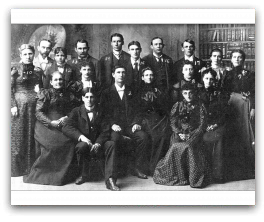 Visitors began to arrive. The friends from surrounding communities pleaded with Him to come to their cities. But because of the limited time and His plan to journey to the West, He did not accept their invitations. Reporters also came. He spoke on various subjects relating to the Cause and they took notes for publication in their newspapers.
… one of the friends who came to see Him was Mr. Jackson of Kenosha, Wisconsin. He told 'Abdu'l-Bahá that the believers and seekers were anxiously awaiting His visit and that a minister had asked Him to promise to speak in his church.
Since the friends were allowed to visit en masse, each morning there was such a crowd that there was no way up or down the stairs. When the Master got tired, He would take a walk outside and then return to the house.