Stories about 'Abdu'l-Bahá
"God … has bestowed upon you … a kingdom, greater than that of the Mikado [former emperor of Japan]"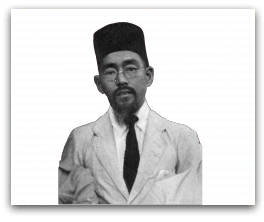 After a brief rest, 'Abdu'l-Bahá appeared before the gathering. His eyes fell on Mr. [Saichiro] Fujita, the Japanese gentleman. He remarked:
So, how is our Japanese Effendi? Recently the government of Japan has undergone a change. A new emperor has come to the throne. The sovereignty of the former Mikado has come to an end; all the hue and cry have ceased, a handful of dust was thrown over him and covered all his imperial regalia. Such was the kingdom of the Mikado. The same is true of all the other kings.

But as you are a believer in God, you have a kingdom which will never collapse and will be everlasting. Offer thanks to God, Who has bestowed upon you such a kingdom, greater than that of the Mikado. The first Bonaparte was a famous man and a great general who conquered most of the countries of Europe and became the emperor of France. The whole of Europe trembled before his command. The star of his prosperity set and it shall never rise again. At last a trifling incident obliterated his dominion and he became a prisoner in a state of extreme hardship in St Helena where he lamented until his death. One day as he was talking with his generals, they said that Christ, too, was a wise man like Napoleon. He replied, 'No, you are mistaken. There is a vast difference between Him and me.'

The sovereignty of Napoleon ceased as soon as he died but the Kingdom of Christ is eternal. The former established his mortal kingdom with bloodshed and the sword while Christ established the Kingdom of God with the life-giving breaths of the Holy Spirit. Napoleon established his kingdom through the power of oppression while Christ established His through the power of the love of God. A hundred thousand Napoleons may be effaced but the Kingdom of Christ will remain forever. Such is the Kingdom of God.