Stories about 'Abdu'l-Bahá
Question: 'How is it that the desires of some people are achieved while others are not?'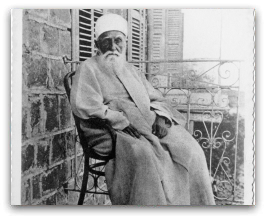 In the afternoon He went for an automobile ride through valleys, hills and meadows as far as the breakwater. When He returned to the house, the Master rested in the garden on special chairs brought for Him and the others and gave a detailed history of the life and teachings of the Blessed Beauty.
At the dinner table He spoke of His gratitude for the blessings of God and the importance of assisting the weak and poor. He was asked, 'How is it that the desires of some people are achieved while others are not?' The gist of the Master's response was:
What conforms with divine decree will be realized. In addition, good intentions and sound thoughts attract confirmations. The desires of human beings are endless. No matter what level a human being reaches, he can still attain higher ones, so he is always making effort and desiring more. He can never find peace but through effort and resignation, so that, notwithstanding all efforts in worldly affairs, the human heart remains free and happy. He neither becomes proud on attaining wealth and position nor becomes dejected on losing them. This station can be attained only through the power of faith.
Such explanations and exhortations repeated at every meeting were warnings and reminders for these prominent people. Day by day their humility and sincerity increased owing to His presence.