Stories about 'Abdu'l-Bahá
"Every universal matter is from God; and limitations are from man."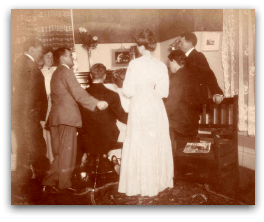 After dinner, the Master went into the outer hall and spoke briefly:
Every universal matter is from God; and limitations are from man. Therefore, if people's services and efforts are undertaken for the benefit of all, they are acceptable to God and leave lasting traces. Otherwise, every other effort is limited and transitory.
After obtaining the Master's permission to have music, the guests sang songs accompanied by the piano. The meeting ended with great joy and happiness.