Stories about 'Abdu'l-Bahá
Prayer chanted by 'Abdu'l-Bahá at the request of friends before eating lunch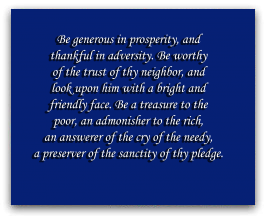 He then went to lunch. At the request of those present at the table the Master chanted the following prayer:
He is God! Thou seest us, O my God, gathered around this table, praising Thy bounty, with our gaze set upon Thy Kingdom. O Lord! Send down upon us Thy heavenly food and confer upon us Thy blessing. Thou art verily the Bestower, the Merciful, the Compassionate.
The Master then spoke extensively on the history of some famous people.