Stories about 'Abdu'l-Bahá
"Nothing avails except servitude to the Blessed Beauty"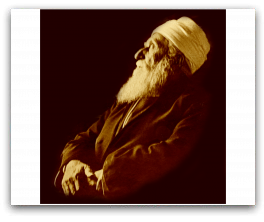 Early in the morning 'Abdu'l-Bahá voiced His thankfulness to the Abha Kingdom, saying:
Praise be to God! His divine help and assistance have enveloped us and the confirmations of the Abha Kingdom have surrounded us. The Cause of God has reached every ear and the divine fragrances have spread throughout all regions. The East and the West are illumined with the light of the most great guidance. The foundation of the Cause of God is firmly and securely established. The friends of the Blessed Beauty have risen in faithfulness and occupied themselves in proclaiming the Word of God. The foundation of the Mashriqu'l-Adhkar is laid. I have no further desire. I wish to reach Haifa and to settle again in the Holy Land. It is now your turn to serve, to render your servitude to the holy threshold. Occupy yourselves day and night in the diffusion of the divine fragrances. All confirmations encircle those who are engaged in rendering services to the court of oneness. Nothing avails except servitude to the Blessed Beauty. If, after the ascension of the Blessed Beauty, I had not risen in servitude to Him, these confirmations would not have descended.
After a short pause, He continued:
Had there not been this servitude, constancy and confirmation the affairs would have fallen into the hands of the ambitious and the standard of the Cause would have fallen forever. Unseemly matters would have ensued. The story of Yahya would have been repeated. Had it not been for the firmness and power of the Ancient Beauty, the mainstay of the Cause would have fallen apart. Nothing would have been witnessed but the propagation of selfish desires and, apart from these, nothing would have remained but some words and phrases.