Stories about 'Abdu'l-Bahá
Mahmud: May 8 — From Pittsburgh to Washington D.C.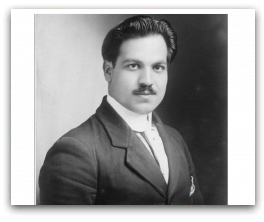 Early in the morning, as the Master was having tea, preparations were underway to continue our journey. We received copies of some of the newspapers carrying accounts of 'Abdu'l-Bahá's visit and His explanations of the most intricate problems of life and the influence that the Cause had had in that city. Every day the call of the Cause of God was awakening the inhabitants of Cleveland and Pittsburgh who had been asleep on the bed of negligence and this was increasingly reported.
The time for the Peace Congress, which the Master had promised to attend, was fast approaching. He moved like lightning from place to place and at each He tore asunder the veils of vain imaginings. In a very short time He accomplished many great tasks. Because the meetings in these cities had been scheduled in advance, several were held in one day and thousands of people were attracted and transformed by Him.
'Abdu'l-Bahá left Pittsburgh at 9:00 a.m. and at 9:00 p.m. the friends in Washington DC, who were anxiously awaiting His arrival at the railway station, were overjoyed to see Him. At every stop He had been shown such great respect that it was like the bowing and bending of the cypress trees, demonstrating the power of the spiritual springtime and the tranquillity and flourishing of the garden of humanity. After lunch on the train, some of the friends pleaded with Him to secure a cabin that He might sleep and get some rest. He replied: 'I make certain expenditures only to help people and to serve the Cause of God; and since my childhood I have never liked distinctions.' He spoke for some time on this subject and warned us against making such personal distinctions.
When the Master arrived in Washington DC He was driven to a house especially rented for Him at 14 Harvard Street, which was near Mrs Parsons's home. Joining us today were Dr Zia Bagdadi of Chicago, the son of Muhammad Mustafa Bagdadi, and Mirza Ahmad Sohrab of Washington DC, both of whom were given the tasks of translating and writing.
The Master spoke today about the meaning of the prophecies and signs of the Day of the Manifestation of God:
Through their ignorance of these meanings people have always remained veiled from the manifestations of the bounties of Him Who is the Causer of Causes. Although in the divine scriptures mention is made of a heaven and an earth other than the physical heaven and earth, yet they have interpreted these signs literally and have deprived themselves of spiritual worlds and divine knowledge.
'Abdu'l-Bahá then went to Mrs Parsons's home where He spoke about the teachings on economics to the friends, who were extremely pleased with His explanation.