Stories about 'Abdu'l-Bahá
Mahmud: May 23 — Green and fragrant countryside reminded the Master of Bahá'u'lláh's love for such scenery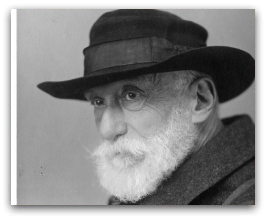 Later, sitting in Professor Blacks's home surrounded by admirers, He showered kindness upon all. The professor accompanied the Master to the town of Worcester, located about 50 miles from Boston.
Passing through green and verdant plains and breathing the invigorating and pleasant air, 'Abdu'l-Bahá spoke sorrowfully in remembrance of the Blessed Beauty and the Greatest Name, saying: 'Would that the Blessed Beauty could have come to these regions! He loved such scenery very much.' Whenever He saw the green and fragrant countryside, He asked the driver to stop. At one place, near the shore of a lake, the greenness of the landscape, the translucence of the water and the purity of the air so pleased Him that He instructed the driver to stop for awhile. The entire group stood and waited. No one dared say anything about the delay.
The Master spoke of the Blessed Beauty in mournful terms, which deeply moved us all.