Stories about 'Abdu'l-Bahá
Mahmud: May 24 – The Master's Talk won over the vast audience at Free Religious Association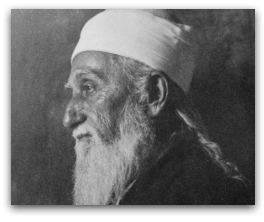 Both believers and non-Bahá'ís came in groups to visit the Master. Among them were journalists who asked various questions and received specific answers from 'Abdu'l-Bahá. The Master had been invited to a conference sponsored by the Free Religious Association. He quickly left for the meeting at Ford Hall. More than a thousand people were in the audience. The subject of His talk was the unity of the teachings of the Messengers of God and the oneness of religions.
Because another lecturer had spoken just before the Master criticizing religion, 'Abdu'l-Bahá's talk seemed extraordinary and produced a great effect. The former speaker, a zealous minister, had announced that a false Christ, a denier of Christ, had come to America. But when the people heard the Master's address establishing the truth of all the Prophets and especially that of Christ, they were surprised, astonished and extremely interested. Moreover, the dignity of 'Abdu'l-Bahá as He left the meeting became a further cause of attracting the hearts. The members of the association, as well as the Association of Unitarians, had offered to pay the expenses of the Master's journey but the offer was not accepted.
At the end of the conference, the chairman held the Master's hand while the audience applauded. He expressed his gratitude and appreciation to the Master. As 'Abdu'l-Bahá left the hall He bestowed His favors upon all.
From that conference 'Abdu'l-Bahá went to Brookline, at the request of Mrs. White, Mrs. Jackson's sister. A banquet was held in a magnificent palace surrounded by resplendent gardens, situated on the summit of a hill and overlooking a large lake, the beauty of which is beyond description. Here a great number of visitors came to see the Master. He was pleased with the meeting and the surroundings. After a delightful talk, attracting all to Him, He returned to Boston to accept a previous invitation. After an hour's journey in an automobile especially sent for Him, He arrived at the hotel [the Boston Hotel] for a brief rest.
He then went to the meeting which was held at the home of Mrs. Nichols, who had sent an automobile for Him. A group of learned and eminent philosophers was waiting for 'Abdu'l-Bahá to ask Him many important questions, the comprehensive answers to which impressed and satisfied all. The discussion lasted about two hours. Their hearts were transformed by His explanations about universal peace among nations, the equality of rights of men and women and the education of women. Then, after tea, punch and sweets, the meeting ended.