Stories about 'Abdu'l-Bahá
Mahmud: May 1 — Setting the Cornerstone of the Temple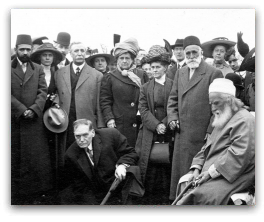 In the morning 'Abdu'l-Bahá looked at some buildings from His balcony and enjoyed the lovely view of the park. He spoke to us, until visitors arrived, about the early days of the Most Great Prison and the sufferings of the Blessed Beauty. He sent several telegrams today to the assemblies of the East, sharing with them the glad tidings of the assistance of Bahá'u'lláh.
He spoke with the friends for a time and bestowed upon them His love. About an hour later He went to the proposed site of the Mashriqu'l-Adhkar located outside the city, where property had been purchased for the construction of this great building. By the time He arrived the friends had already assembled and had pitched a large tent for the meeting.
'Abdu'l-Bahá first drove around the site, inspecting its boundaries, and then entered the tent. The friends stood all about Him, their eyes intently fixed on His luminous face. It was in these circumstances that 'Abdu'l-Bahá gave His talk on the power of the Cause of Bahá'u'lláh to unite the people of the East and the West beneath the shadow of the Word of God. He also spoke about the Mashriqu'l-Adhkars of 'Ishqabad and America. He then went to the spot where He was to lay the cornerstone with His own hands. Miss Holmes presented Him with a golden trowel especially prepared for the occasion. He took it in His hand and dug the earth for the foundation stone. Then the delegates from the American assemblies, followed by representatives of the Eastern friends, each took the trowel and continued digging the foundation. Among them were Mihtar Ardishir Bahram Surush representing the Bahá'ís of Parsi background, Siyyid Asadu'llah representing the Bahá'ís of Muslim origin, Zia Bagdadi representing the Arabian friends and Ghodsieh (Qudsiyyih) Khanum Ashraf representing the Bahá'í women of the East. When the digging was completed, the Master set the stone in place with His own hand. He then showered His love and affection on the friends and left the site. Most of the friends remained and had lunch inside the tent.
There was a reception at the Plaza Hotel later that afternoon at which the Master spoke on divine civilization and spiritual qualities. Both before and after the meeting friends and inquirers requested interviews and asked Him questions on several subjects.