Stories about 'Abdu'l-Bahá
Mahmud: June 2 – Second Address at the Church of Ascension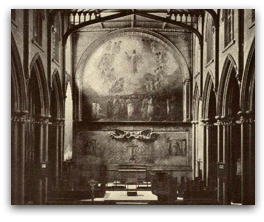 Church of the Ascension
5th Avenue
New York
,
NY
At a large and beautiful gathering at the Church of the Ascension, many were honored with the bounty of hearing the addresses and explanations of the Master and were thus turned towards the Kingdom of God. This was the second time this church was graced by Him around Whom all names revolve. He said:
At the time of my arrival at the church I was in no condition to speak; but when I stood before this great gathering I found the atmosphere of the church filled with the Holy Spirit and so a state of wonderful happiness and joy came over me.
He began His address by saying:
In the terminology of the Holy Books, the church is a symbol of the Covenant, in other words it is a gathering place for different peoples and races so that it may become a sign and token of the true Temple and the Divine Law.
It was an exposition about the Cause of God as the collective center, the manifestation of the Prophets and the coming of Bahá'u'lláh.
Through the pastor, Dr Grant, some in the audience requested permission to ask some questions, which was granted. Everyone who wished wrote a question on a piece of paper and submitted it through an usher. Through an interpreter, the questions were translated and the answers given to the inquirers. Oh, that the Eastern friends could have been in these churches and gatherings in the West to see with their own eyes the beauty and glory of their Master! They would have rejoiced in perceiving that which no spoken or written words can adequately describe.