Stories about 'Abdu'l-Bahá
Mahmud: June 1 – "The Kingdom of God is vast. He will give you whatever you desire…"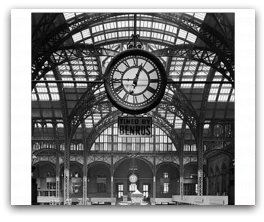 Penn Station
New York
,
NY
In great humility a group of Bahá'ís came to the railway station to bid farewell to 'Abdu'l-Bahá. Everyone was weeping as the train left. When He left, the Master was in a devout and meditative mood.
Upon His return to New York, He spoke to a gathering of friends about the harm of intoxicating beverages and also related some historical stories to the friends. In the afternoon some Bahá'ís and inquirers visited Him in His room, one after the other. Among them was a socialist. 'Abdu'l-Bahá said in part:
Tell the socialists that sharing of property and land in this mortal world is the source of strife and warfare but sharing and inheritance in the Kingdom is the cause of love and unity. If you put your efforts into understanding the precepts of the Kingdom instead of into acquiring worldly shares and rights, you will gain perpetual joy and happiness. The Kingdom of God is vast. He will give you whatever you desire and there will be no place for strife and conflict. Is this not preferable and more pleasing?
Each visitor with a particular interest was addressed similarly and each departed in joy.