Stories about 'Abdu'l-Bahá
Listening to a translation of a long article appeared in today's issue of The Sun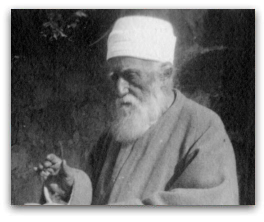 After morning prayers and visits with some Bahá'ís and non-Bahá'ís, the Master went for a long walk. It was His custom to go out for a walk before lunch and dinner.
A person of Greek ancestry invited the Master to go to a park outside of the city where a number of his friends, who desired to meet 'Abdu'l-Bahá, had gathered. The Master went to the park. While traveling on the subway, He said:
In man's nature there must be a desire to ascend and not to descend. The underground air is suffocating. It would have been better if we had gone by road above. The Blessed Beauty used to say that it is even a pity that the dead body of man should be buried under the ground.
When the Master entered the park, He sat on the grass and those who wished to meet Him came to Him.
Much of the time was spent listening to a translation of a long article that appeared in today's issue of The Sun concerning 'Abdu'l-Bahá's talk at a church. The reporter had been present when the address was given and had published the translation, adding a brief history of the Cause. In his article, he emphasized the force of 'Abdu'l-Bahá's reasoning in establishing the truth of all of the Manifestations of God, and in particular of Islam and this mighty Cause.
The newspaper was sent to the Assemblies in the East so they would be informed of the influence of the Cause and the prestige of 'Abdu'l-Bahá. In addition to such articles and comments in the newspapers of many cities, both Bahá'ís and non-Bahá'ís wrote eulogies and poems in praise of the Master. Everyone was full of praise for Him, which demonstrates the influence of the Cause in the West. There were even short, sweet poems written in English about His manners and mode of speech. Foremost among such poets was Mr. McSway. When the Master was staying in New York, Mr. McSway had written a booklet eloquently praising Him, which he intends to publish in the near future.
This evening the Master explained that the distinction of the world of humanity is due to its relationship to the world of the spirit.