Stories about 'Abdu'l-Bahá
Juliet: May 21 – We must work together for the peace of the world and the oneness of mankind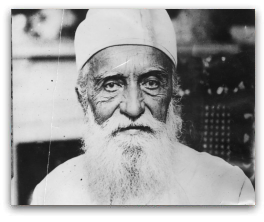 The Diary of Juliet Thompson
And now the Master began to speak to the whole roomful of people [who were of the fashionable world, with a sprinkling of artists and writers]
He was very happy, He said, to be with us. "Think of the contrast!" For years He had been imprisoned in a fortress, His associates criminals. Now He found Himself in spacious homes, "associating," He said, "with you."
His talk gradually shaped itself to some definite point, which, however, He kept for the very end. I wondered what could be coming. When it came it was like a thunderclap.
"Think of it," He said. "Two kings were dethroned in order that I might be freed. This is naught but pure destiny."
I glanced at Percy Grant and saw that he was deeply stirred. He had been listening, still with that tender deference, his head slightly tipped to one side, but at these last startling words of the Master's, in a flash the placidity of his face broke up, something burned through and his eyes sparked.
"And now," ended the Master, suddenly rising to His feet, strong and incredibly majestic, "you here in America must work with Me for the peace of the world and the oneness of mankind."
And with this He left us, the room seeming strangely empty after He had gone.