Stories about 'Abdu'l-Bahá
Mahmud: May 20 — Driving to a Women Suffragists Gathering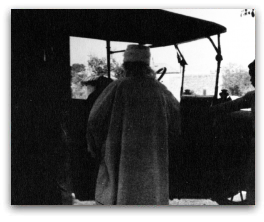 Among those visiting the Master at the Kinney's home were some narrow-minded Christian ministers. He spoke to them about the misunderstandings among Christians about Islam. After the Master spoke emphatically with reasoning and proofs to establish the reality of Islam, the ministers left humbly and joyfully, impressed by His explanations.
In the evening an enthusiastic gathering of women suffragists gathered to hear the Master's address. While riding in Mr. Mills's automobile, the Master said: 'You will learn of the value of this automobile later because it will be said that the servants of the Blessed Beauty sat in it.'
When He entered the gathering, the entire audience stood with great joy and excitement. The chairman of the meeting [Mrs Penfield] first gave an introductory account of the persecutions and imprisonment of the Master and explained the meaning of the name 'Abdu'l-Bahá. The Master then spoke at length about the education and rights of women. There was great excitement in the audience, and, as in other gatherings, the people were deeply moved and both men and women shook His hand, supplicating for assistance.