Stories about 'Abdu'l-Bahá
'Abdu'l-Bahá's visit to Juliet's house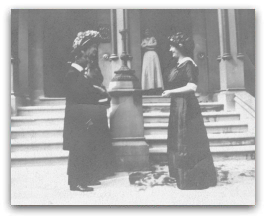 The Diary of Juliet Thompson
My Lord came into our house. The door was not locked. He opened it Himself and walked up the stairs. It was His house. Mamma almost ran to meet Him, her face suffused with joy, her eyes shy and tender. The MacNutts and the Goodalls had arrived and Ruth Berkeley and Marjorie, were waiting in the second-floor living room. The Master went in and greeted them with His wonderful buoyant greeting; then I took Him to my room to rest and, after kneeling and kissing the hem of His garment, left Him lying on my couch.
While He was resting Kahlil Gibran came. He had a private talk with the Master in my room; then joined us upstairs in the studio, to which we had all gone by that time, and in a very few minutes the Master too joined us.
Mamma, with her own loving hands, had prepared the studio for His reception and it was very beautiful, full of laurel, white roses, and lighted white candles.
"What a good room," said the Master as He entered it. "It is like an Oriental room — so high. If I were to build a house here," He laughed, "I would build an eclectic house — partly Oriental, partly Occidental."
Then we passed the refreshments and our Beloved Lord "broke bread" with us.
… The Master had planned to spend the whole evening with us and we were all to go for a walk, but the Persians had forgotten to announce at the Seventy–Eighth Street house that He would be absent Friday evening, so He felt He must return early.