Stories about 'Abdu'l-Bahá
'Abdu'l-Bahá encouraged Bahá'ís to visit one another's homes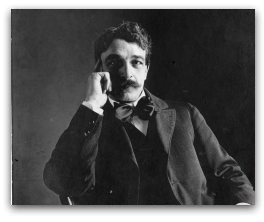 After morning prayers and meditation, 'Abdu'l-Bahá bestowed His favors upon the friends and well-wishers, especially on Mrs. Goodall and Mrs. Cooper and other friends from California, confirming and assisting them. While He conversed with the friends, He also wrote Tablets in response to petitions from the believers.
Among those who visited Him today were two eminent clergymen: one was Dr. Grant, the minister of the Church of the Ascension, and the other Dr. Ives of the Brotherhood Church of New Jersey. They have frequently visited the Master showing Him the utmost respect and reverence.
In the afternoon there was a meeting of the friends at the home of Miss Juliet Thompson. 'Abdu'l-Bahá encouraged them to hold as many meetings as possible. 'Promise each other', He said, 'to visit one another's homes so that it may be the cause of promoting love and happiness.' After His eloquent discourse, sherbet and sweets were served and then He left the meeting.
At the evening gathering at His house 'Abdu'l-Bahá spoke on the degrees and station of creation, the maturity of the world and the magnitude of the Dispensation of the Ancient Beauty. The meeting lasted until dinner was ready. He sat at the table and invited all the friends from America to dine with Him. At this point a lady asked, 'Up to the present time, not a single woman has appeared as a Messenger from God. Why have all the Manifestations of God been men?' 'Abdu'l-Bahá replied:
Although women are equal to men in abilities and capacities, there is no doubt that men are bolder and physically more powerful. This distinction is also apparent in the animal kingdom, for example among pigeons, sparrows, peacocks and others.