Stories about 'Abdu'l-Bahá
'Abdu'l-Bahá showers Juliet's mother with kindness on her birthday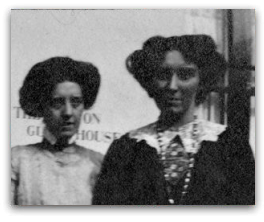 The Diary of Juliet Thompson
On the fourth of July … Mamma had her birthday dinner with the Master. He was so sweet to her. When we first arrived we found Him in the English basement and He led Mamma to the sofa and, with that wonderful freedom of His, drew her down beside Him.
Carrie Kinney, Georgie Ralston, and I were sitting across the room by the window and I'm afraid we did look solemn, for we sat in a row, perfectly silent.
"Look at them!" said Mamma, laughing. "They are jealous of me!"
"Then we will make them more jealous!" arid the Master seized Mamma's hand and drew her still closer, at which she looked really scared!
Now I felt compelled to speak. "Three years ago, my Lord, on the fourth of July, Carrie, and I were with You in 'Akka and You took us to the Holy Shrine of Bahá'u'lláh. I never expected to keep that anniversary with You in New York."
At the table the Master joked with Mamma because she was eating so little. "I perceive that you are an angel, Mrs. Thompson. Angels do not eat."
"The Master sees I am not an angel," I laughed, "for I eat every morsel He puts on my plate."
"I perceive that you are a very clever girl. Mrs. Thompson," He continued, "is going home to a luscious supper and saving her appetite for that."
Passing me a dish with three very shrivelled dates on it, He said: "Here, Juliet, are the Father, the Son, and the Holy Ghost."
And I ate them up!
A little later Mamma said, looking at the Master with her sweet shyness: "You are very kind to me."
"God knows the degrees of it," He sighed deeply.