Stories about 'Abdu'l-Bahá
The story of Juliet's rosary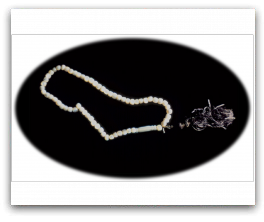 The Diary of Juliet Thompson
This morning I went as usual to the Master's house but was stopped at the door by Alice Beede.
"Fly," she said, "after Mrs. Goodall and Ella. They have your rosary. The Master just gave it to them."
My precious, precious coral rosary — given to me by the Greatest Holy Leaf! Given on a wonderful occasion, when a young carpenter living on Mount Carmel had been healed of typhoid fever. Ruha and I had climbed the mountain to see him and we were trying to help his mother when Khanum ['Abdu'l-Bahá's sister] and the Holy Mother['Abdu'l-Bahá's wife] arrived with a doctor. The doctor went into the hut and the rest of us stayed outside, Khanum sitting on the ground under a tree, praying on this same rosary. It was dark by then, and very dark in that little garden. Khanum was all in shadowy white, from her veil to her feet. When she had finished praying, she glided like a spirit toward me and threw the coral chain over my head. A few days ago I took this great treasure to the Master. "This is the dearest thing I possess," I said, "except Your tablets and the ring You gave me. If You will use it, my Lord, it will be infinitely dearer."
I ran up the street after Mrs. Goodall and Ella Cooper and when I overtook them said breathlessly: "Alice Beede has just told me that the Master gave you my rosary."
"Oh! Take it back," said Mrs Goodall.
But I had come to my senses.
"No, no," I answered. "If the Master gave it to you it is yours."
 
In the afternoon I went again to my Lord. He was sitting in the English basement, in His lap a tangled pile of rosaries. I sat between Ahmad and Edward Getsinger. The Master held up a rosary.
"To whom do I return this?" He inquired of Ahmad.
Edward leaned over to me and whispered: "That is the way your rosary went."
"Oh no, it isn't," I whispered back.
"What did Juliet say?" asked the Master.
"It was nothing, my Lord, nothing," I said.
He smiled and the subject was dropped.
Footnote 1947: Just after the Master ascended, dear Mrs Goodall died and Ella sent the rosary back to me. Several years later I gave it to Romeyn Benjamin. It played a miraculous part in his life and when he died, eight years ago, again it came back to me.