Stories about 'Abdu'l-Bahá
Juliet: April 12 — Meeting with Juliet's mother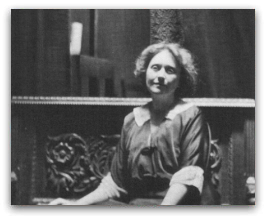 The Diary of Juliet Thompson
The next morning early the Master telephoned me (that is, Ahmad telephoned for Him) and nearly every morning after. Can you imagine the sweetness of that—to be wakened every morning by a word from Him? Sometimes He just inquired how I was, but often He called me to Him.
When I first went to see Him He asked me only one question. "How is your mother?"
"Not very well, my Lord."
"What is the matter?"
"She is grieving." And I told Him why. My brother is soon to be married to a quite beautiful, brilliant girl who, however, doesn't want to make friends with his family!
"Bring your mother to Me," He said. "I will comfort her."
He sent for her that very night. I was terribly afraid she wouldn't go—she has been so opposed to my work in the Cause — and Ahmad called up in the midst of a thunderstorm! But when I took the message to her — that the Master wished her to come to Him now — she jumped up from her chair and began to scurry around.
"Just wait till I get my rubbers," she said.
We found Him exhausted, lying on His bed. He had seen hundreds of people that day, literally, at a big reception and in His own rooms. Mamma, who is very shy and undemonstrative, rushed to the bedside and fell on her knees.
"Welcome, welcome!" said the Master. "You are very welcome, Mrs Thompson.
"You must be very thankful for your daughter. Praise be to God, she is a daughter of the Kingdom. If she were an earthly daughter, of what use would she be to you? At best she could do you a little material good. But she is a heavenly daughter, a daughter of the Kingdom. Therefore she is the means of drawing your soul nearer to God. Her value to you is not apparent now. When one possesses a thing its value is not realized. But you will realize later. Mary Magdalene was but a villager; she was even scorned by the people, but now her name moves the whole earth, and in the Kingdom of God she is very near. Your daughter is kind to you. If your son is faithless, she is faithful. She will become dearer and dearer to you. She will take the place of your son. But in the end your son will be very good. This is only temporary.
"I became very grieved today when, upon inquiring for you, I heard of your sorrow. And now I want to comfort you. Trust in God. God is kind. God is faithful. God never forgets you. If others are unkind what difference does it make when God is kind? When God is on your side it does not matter what men do to you. But your son will be good in the end.
"God is kind to you. And I am going to be kind to you. And I am faithful!"
Mamma, still on her knees, bent and kissed His hand. "Tell the Master," she said to Ahmad, "I have always loved Him. Lua knows that." (If Lua knew, I certainly didn't.)
"I have no need of a witness," the Master answered, so tenderly. "My heart knows."
The next day Mamma said to me: "All my bitterness has gone. The Master must be helping me."
[In the years that followed she would often say to me: "I love the Master more than you do, Julie, and I obey Him better than you do, for He performed a miracle for me, which He never did for you! He took all the bitterness out of my heart." There was another occasion, which I find I haven't mentioned in my diary, when my darling little mother knelt before the Master. This was a public occasion, after He had spoken in a church. The service over, the whole congregation, including a multitude of believers, surged toward the chancel to shake hands with Him. Mamma was the only one in that long procession who sank to her knees and kissed his hand.—J.T.]