Stories about 'Abdu'l-Bahá
Agnes: April 11 - 'Abdu'l-Bahá's Steamship Reached New York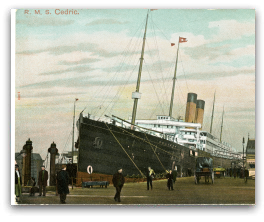 'Abdu'l-Bahá's steamship "Cedric" reached New York Wednesday night April 10th 1912. Many Bahá'ís were at the wharf to greet Him, but the passengers were not permitted to leave the ship until late Thursday morning because of illness in the steerage. The Bahá'ís were there early, and 'Abdu'l-Bahá sent them a message not to wait, that He would see them later at the hotel, but they would not go away.
When the reporters boarded the Cedric off quarantine they found 'Abdu'l-Bahá on the upper deck. He was dressed in a long, flowing black oriental gown underneath which was another of a light tan color. On His head He wore a snow-white turban. He gave the reporters a hearty welcome and He proved such a good talker that there was no occasion to ask questions. He talked of newspapers, of woman [sic] suffrage, of universal peace, of religion and of Persia. When the Cedric was opposite the Statue of Liberty 'Abdu'l-Bahá extended His arms in a salute and referred to His own long exile in Syria. The skyline of New York greatly interested Him. He called the skyscrapers "the minarets of [the] Western world's commerce and industry." Many were on the pier to greet him. He, however, shrank from a public reception and asked through Dr. [Amin Ullah] Fareed that they go away, saying that He would meet them at the hotel in which He will stay in the afternoon.
I gave Mirza [Ahmad] Sohrab a letter to 'Abdu'l-Bahá … I received a letter from Mirza Sohrab dated April 12th saying 'Abdu'l-Bahá seemed inclined to stay at an apartment, coming to the house [Agnes Parson's] each day for meetings and appointments, and he enclosed a tablet from 'Abdu'l-Bahá, kind and lovely but making no promises.