Stories about 'Abdu'l-Bahá
A Jewish rabbi visits 'Abdu'l-Bahá and invites Him to speak at his synagogue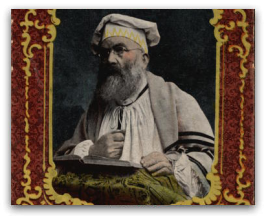 Later, a Jewish rabbi visited the Master and requested that He speak in his synagogue. 'Abdu'l-Bahá spoke with him, saying, 'I have come from your original homeland, Jerusalem. I passed forty-five years in Palestine, but I was in prison.' The rabbi said, 'We are all prisoners in this world.' The Master added, 'But I was imprisoned in two prisons. Even then I was contented and was completely happy and grateful.' The rabbi then said, 'The Prophets of God have always been imprisoned and now His Holiness 'Abdu'l-Bahá, the chosen one of God, is imprisoned.' The Master stated, 'I am but the servant of God; but the practice of people has always been to persecute all the Prophets and the holy ones and then later to prostrate themselves at the mention of their names.' When they finished their conversation, the rabbi expressed his sincere thanks and requested permission to leave. The Master embraced Him and said, 'We desire that all religions unite in bonds of brotherhood, to love one another. May they join hands and embrace each other, and honor and respect one another's masters.'
The Master was invited to the Commercial Club this morning. As He drove through the city's parks and boulevards on the way, He remarked:
Tonight when we speak in the Jewish synagogue we shall bring proofs and arguments in support of the Spirit [Christ]. This is the wish and confirmation of the Blessed Beauty. It is as if the Abha Beauty were present in the Mansion at 'Akka and I went into His presence and said that I wished to speak in a Jewish synagogue. It is clear that His wish would be that the truth of Jesus should be demonstrated.
… In the evening the Master delivered a brilliant address at the Jewish synagogue, providing decisive proofs of the validity and truth of Christ and the Cause of Muhammad. It was so persuasive that men and women came to 'Abdu'l-Bahá with the utmost humility and admiration. One of them said openly that he would no longer be a Jew.