Stories about 'Abdu'l-Bahá
The historical significance of the Master's address at the Jewish Temple and its immediate impact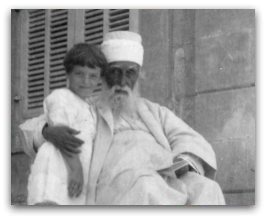 'Abdu'l-Bahá gave this address in the afternoon at the home of Mrs. Goodall and Mrs. Cooper:
Today we spoke in the Jewish temple. You saw how it was proven that Christ was the Word of God and Muhammad the Messenger of God. From the beginning of Christianity and Islam up to the present day, no one has spoken thus, proving the validity of Christ and Muhammad in a Jewish temple and in a manner to which no one took exception. Rather, most were appreciative and content. This is none other than the assistance of Bahá'u'lláh.
The effect and influence of the address were such that from then on there was evidence of unity and communication between the Christians and Jews. They even made plans to visit each other's places of worship to give talks about the unity of peoples and religions. Whenever they met 'Abdu'l-Bahá or attended Bahá'í gatherings, they expressed their gratitude from the depths of their hearts for this great Cause and its new teachings.