Stories about 'Abdu'l-Bahá
Gratitude is the cause of multiple blessings but the apex of gratitude is sacrifice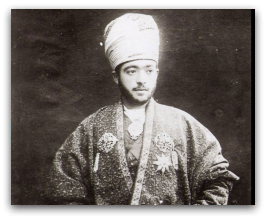 In the morning the Master explained and illustrated some of the verses from Bahá'u'lláh for the friends who had come from the surrounding area to see Him. The explanations ended with the statement that contentment in poverty is better than happiness in wealth but happiness in poverty is more praiseworthy than mere contentment. Above all is the rich man who, having sacrificed, emerges pure from tests and trials and becomes the cause of tranquility to mankind. Gratitude is the cause of multiple blessings but the apex of gratitude is sacrifice. The station of sacrifice is the highest of all. For this reason it is said, 'You will never attain unto righteousness until ye sacrifice that which ye love.' The Master then narrated a story:
At the time of his death a king longed for the station of a poor man, saying, 'Would that I were a poor man so that I would neither have practiced oppression nor have had any regrets at the time of death.' A poor man heard this, and said, 'Praise be to God that at the hour of death kings desire to be poor. We poor people at the hour of death have no desire to be kings.'
Conversation of this kind continued for some time.