Stories about 'Abdu'l-Bahá
Clarity, perception and vastness of 'Abdu'l-Bahá's knowledge manifested in His public talks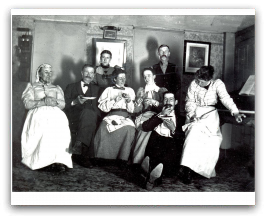 A glorious meeting was held at the Unitarian Church in Dublin. He went to the church at 11:00 a.m. and as He entered the entire audience rose to its feet. The pastor sang a beautiful song in praise of 'Abdu'l-Bahá. After the preliminary ceremonies, the Master was introduced by the pastor with the utmost reverence and esteem. He then stood and gave a detailed address on the necessity of true education and spiritual power and spoke of the coming of Bahá'u'lláh and His teachings. At the end of His talk He chanted a prayer, His life-giving melodies penetrating the souls and attracting the hearts. A wonderful spirit of humility seemed to permeate the building and the voice of acceptance seemed to issue from all sides.
Many who had not already had the honor of visiting 'Abdu'l-Bahá came to Him with such eagerness that the Master said, 'The Call of God has been raised here and the work is finished.'
He was invited for lunch at the home of Mr. and Mrs. Parmelee. There He was asked about the Cause of God and about the new principles. Although He responded to the questions of those present, still they thought that the talk had been prepared beforehand and that the interpreter had committed it to memory. They felt no one would have been able to speak extemporaneously with such clarity and perception. The vastness of His knowledge is even more evident. My point is that His talk and explanations seemed extraordinary in the eyes of the people and that the unseen confirmations of Bahá'u'lláh assisted the Center of the Covenant. After this meeting the people's spirits were raised.