Stories about 'Abdu'l-Bahá
A doctor on the train inquired about the object of 'Abdu'l-Bahá's journey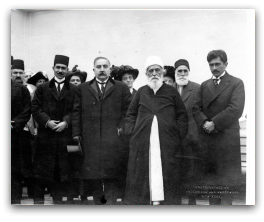 En route to Washington DC
A few stations beyond Cincinnati, a doctor sitting near the Master asked permission to speak with Him and inquired about the object of His journey. The Master said to the doctor:
My aim is to create harmony and concord among the different groups and to eradicate prejudice, hatred and enmity so that the peoples and nations of the world may become brothers and well-wishers of mankind and not engage in wars and massacres, and that catastrophes such as that in the Balkans with their bloodshed and annihilation of families may not occur again. Until such events cease, humanity will find no rest, the tabernacle of universal peace will not be raised and the oneness of the world of man will not be realized. We are all the flock of God, members of the same human race and the creatures of one Creator. God is kind to all and His bounties are equally bestowed upon all.

Sixty years ago Bahá'u'lláh instituted the foundations of such teachings in Persia. He advocated the establishment of universal peace and the oneness of humanity. The Shah of Persia and the Sultan of Turkey threw us into prison. They killed twenty thousand of us hoping that this Cause would be annihilated and that these teachings of Bahá'u'lláh would be forgotten. But in spite of these obstacles the religion of Bahá'u'lláh progressed day by day. Then there was a revolution and the constitution was established and I was set free. Leaving the prison of 'Akka, I traveled to countries in Africa, Europe and America, called people to these blessed teachings and invited nations and religions to the oneness of the foundation of all religions and the abandonment of prejudices, wars, dogmatic imitations and superstitions.
The doctor was delighted and very impressed by the Master's words and thanked Him sincerely. The Master replied:
I, too, am very pleased to make your acquaintance. I, a Persian, am delighted to meet an eminent Westerner like you in utmost harmony and fellowship. This meeting of ours is an example of the joining of the East and the West.