Stories about 'Abdu'l-Bahá
A prayer for the believers in the West – revealed and chanted by 'Abdu'l-Bahá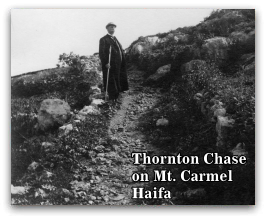 When the conversation turned to Los Angeles, the Master spoke about Mr. Chase and the nobility of his spirit. He chanted a prayer in life-giving strains:
O Thou kind Lord, we render thanks unto Thee that Thou has brought us from the farthest lands of the East to the most distant lands of the West and gathered us at this table arrayed with the finest, most diverse, sweetest and most delicious material foods. We thank Thee especially for the presence of those who have turned toward the Kingdom of Thy favor and have fixed their eyes upon the horizon of Thy kindness.

O Lord! These souls have turned toward Thee, they desire Thy pleasure and are grateful for Thy blessings. They walk in the ways of Thy will.

O Lord! Grant them heavenly food; enable them to partake of the Lord's supper. Exalt this noble lady in Thy Kingdom, bestow everlasting life upon her and grant her Thine eternal favor. As Thou hast given us these earthly blessings so, too, give us heavenly food. Bestow upon us Thine everlasting grace. Strengthen us to arise in praise and gratitude to Thee that we may be aided and assisted to do that which beseems Thy glorification.

Thou art the Mighty, the Generous, the Compassionate.