Stories about 'Abdu'l-Bahá
Commenting on the show and ceremony associated with the opening of a new church in California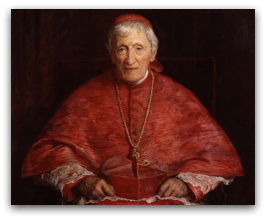 When the friends were informed of the Master's arrival, they eagerly hastened to Him to gaze once more on His face. He spoke to several newspaper reporters who had come to interview Him about the Cause and who recorded His statements for publication.
At a meeting He again spoke about the cardinal in California, saying:
One day in California I saw a cardinal walking with pomp and ceremony in front of a procession. Inquiring about the occasion, I was told that a new church had been built and the cardinal was to officially open its doors to the public. I said, 'This show and ceremony of the cardinal is like that of Christ. However, there is a slight difference. Christ opened the gate of heaven; this cardinal is going to open that of a church. Christ had a crowd following Him but they were there to hurl contempt and abuse at Him. This cardinal had a crowd with him but they are there to help. Christ had a crown but it was made of thorns, while this cardinal wears a crown set with lustrous jewels. Christ had clothes but they were made of old, coarse cloth, while this man's robe is made of the finest brocade of the day. Christ spent His days in sorrow, while this cardinal's days are spent in security and comfort. Christ's home was a desert, while this cardinal's home is a splendid building, like that of a king. Christ's throne was upon a cross, while this man's place of rest is a throne of ease and comfort. The adornment of Christ's banquet was the blood of that beloved countenance, while the ornament of this man's court is the goblet of colored wine. So, this cardinal's display is similar to that of Christ, with only the slightest differences.'
Although the Master told this story humorously in several gatherings in different words, it was always a warning to the people and the cause of their awakening.
Despite the Master's exhaustion, He gave two public talks: one in the afternoon at the home of Mrs. Roberts and the other in the evening at the Church of the Messiah. In both gatherings He spoke of the similarity of the principles of all religions as well as the revision of certain social laws to meet the needs of the time. His explanations were delivered so impressively that the audience was enlightened as well as extremely interested.
As He was leaving the church, 'Abdu'l-Bahá said farewell to all those who had gathered around Him. They pleaded with Him to stay a little longer but He said, 'I must return soon to the East.'