Stories about 'Abdu'l-Bahá
'Abdu'l-Bahá wrote an account of His travels in America to the friends in the East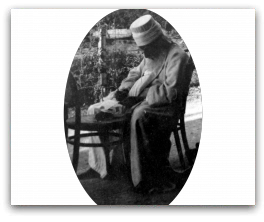 En route from Denver to Chicago
While having tea in the morning, the Master said:
This journey has passed pleasantly. The three days from California to Denver were comfortable and delightful. I did not believe that my weak constitution could bear the hardships and length of this journey.
At my request, 'Abdu'l-Bahá wrote an account of His travels in America to the friends in the East. This piece of writing and another article about the history and teachings of the Blessed Beauty are still among the papers of His personal belongings and have not as yet been circulated.