Stories about 'Abdu'l-Bahá
'Abdu'l-Bahá's last day in Dublin, NH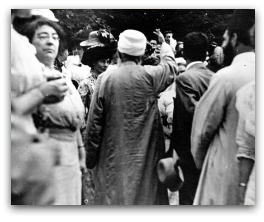 Today was the Master's last day in Dublin. Mrs. Parsons had asked a large number to attend and had invited the best musicians to play the piano and sing at the beginning of the meeting. The Master sat in an adjoining room enjoying the music. There was such a crowd in the large drawing room that although rows of chairs had been arranged, no seating was available. The Master entered the room to give His last talk in Dublin:
I have explained every question for you, delivered to you the message of God, expounded the mysteries of the divine Books for you, proved the immortality of the spirit and oneness of truth and expounded for you economic questions and divine teachings.
As this was His last address everyone came to shake His hand and offer his or her thanks before leaving His presence. Mrs. Parsons said that the people were usually happy but because they knew 'Abdu'l-Bahá was leaving they were sad and wanted to prolong His stay.
He replied, 'I, too, wished to stay longer but I must go to Green Acre and other places. I must raise the call of the Kingdom in all places. The days of my life in this world are limited, so I must pass through all regions and announce the glad tidings of the Kingdom of Abha.'
'Abdu'l-Bahá spent the day saying farewell to many eminent people. After the afternoon meeting, one of the believers, Miss Knobloch, with His permission took several photographs of Him with these servants.
The automobile was ready and He was driven to the home of a friend where a meeting was held. The people were very enthusiastic and inebriated with love and affection. After speaking to them briefly and narrating a few stories, He left.