Stories about 'Abdu'l-Bahá
A crowd of more than 500 people welcomes 'Abdu'l-Bahá to Green Acre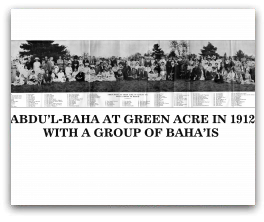 At dawn, while we were still in bed, we heard the Master sweetly chanting a prayer. We at once got up, went to Him and were served tea and refreshments from the all-bountiful Saghi. He instructed us to collect our belongings and prepare to leave. Around 10:00 a.m. Mr. [Alfred E.] Lunt's automobile arrived and the Master left Dublin. En route He had lunch at Nashua, New Hampshire, and after a little rest continued on His journey. We reached Green Acre in the afternoon where more than five hundred people were waiting for Him. Both sides of the entrance had been decorated with multicolored lanterns and a festive reception awaited His arrival.
After a short rest, the Master entered the main room of the Inn and gave a brief talk about the investigation of truth. From there He went to the home of Miss Farmer, the founder of the Green Acre Society. This distinguished lady was revived by His visit and although she was not feeling well, she accompanied the Master back to the Inn.
In the evening at the hotel, in response to questions from the audience, 'Abdu'l-Bahá delivered a most impressive address on the love of God, the immortality of the spirit and the divine teachings. Everyone was deeply moved and their hearts were transformed.