Stories about 'Abdu'l-Bahá
'Abdu'l-Bahá called on some acquaintances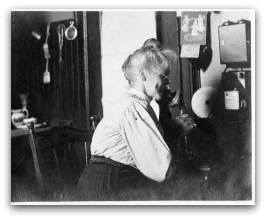 A telephone message was brought me early: "Will Mrs. Parsons come with the carriage to drive with 'Abdu'l-Bahá at nine?" And very nearly at nine, I was there. When 'Abdu'l-Bahá, Dr. Fareed and I were in the carriage, 'Abdu'l-Bahá said He wanted to call on some of the people. First we went to see Mrs. Childs, the sister-in-law of Dr. Alfred Henry Childs. He sat in her parlor for a few minutes, and she was most pleased with the Visit. 'Abdu'l-Bahá asked for the two people who board with her, but they were out.
Next we called on Mr. and Mrs. Charles MacVeagh who were not at the house, but came in about ten minutes. We walked about in front of the house, until they arrived, 'Abdu'l-Bahá speaking to me of very important things. They were most happy to have 'Abdu'l-Bahá there. They took us into the house and through it to the cloister where we sat on a bench then out under a maple tree. Soon we left for the Markhams's but not until 'Abdu'l-Bahá had been asked if he would accept any refreshments, and had had some lemonade.
The Markhams and Mildred Blackwell were out, and we should have gone to see Elize and Mrs. Franklin MacVeagh, but there was only time for a little rest for Him and a change of clothes for me before we left for Mrs. Edward Frothingham's for lunch. There were only we three, Mrs. and Miss Frothingham and Mr. Neal, and the conversation was on woman's suffrage. 'Abdu'l-Bahá brought out many interesting points. He had a rest, and then Mr. Neal and Miss Frothingham sang to Him. Mrs. Frothingham wanted to have a private interview, so I came home in the carriage alone, leaving 'Abdu'l-Bahá and Dr. Fareed, to be brought back by Mrs. Frothingham in her motor.