'Abdu'l-Bahá's travels
Worcester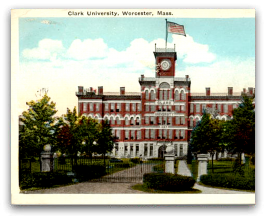 'Abdu-l-Bahá visited the city of Worcester, MA on May 23, 1912 and spoke at Clark University on the subject of science and the importance of education.
'Abdu'l-Bahá's remarks on this occasion were impromptu: apparently only a visit to Clark University had been planned, but upon receiving a very cordial welcome from a waiting assemblage of about 500 students and faculty, He responded with a brief speech.
As was usually the case, His remarks were recorded by a secretary. These were later printed, in Persian, in Star of the West magazine. The rendering into English was done in May 1971 by two of the friends in Worcester, one of whom is a native Persian.
The Biblical quotation used by 'Abdu'l-Bahá is apparently that found in Matthew 13:13, and the language of that verse in the King James Version has been used in the English translation.
For more information, see the 'Abdu-l-Bahá in Worcester blog.