'Abdu'l-Bahá's travels
Boston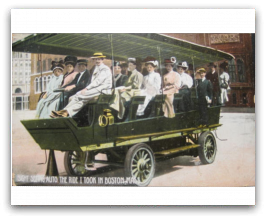 'Abdu'l-Bahá visited Boston two times during His time in America.
On May 22, 'Abdu'l-Bahá traveled to Boston, where His first public talk was to 800 Unitarian ministers at the American Unitarian Association Conference. In addition to the ministers, over 2,000 other people were there, and the presiding officer was the Lieutenant-Governor of Massachusetts. But even though this was supposed to be an "intellectual group holding, probably, the most 'advanced' opinions in religious thought," 'Abdu'l-Bahá was speaking to those who could not hear. "A very interesting old gentleman, but he told us nothing new," was the comment of many.
On 'Abdu'l-Bahá's way from New York to Dublin, New Hampshire, He stopped in Boston for 2 days at the Victoria Hotel. On the morning of the July 24 He met with friends and seekers in Boston for 4 hours, beginning at 8 o'clock. He then gave three public addresses, one at the Golden Circle Club where He was asked whether Arabic might become the universal language. He said that it would not. Despite His tiredness He then spoke at the Boston Theosophical Society, and the following morning again met visitors and paid a short visit to Green Acre before leaving Boston for Dublin.