Stories about 'Abdu'l-Bahá
"…thank God that you have been endowed with capacity and desire to investigate the truth."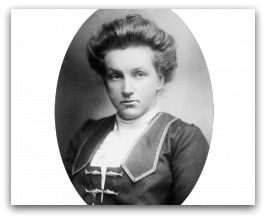 Several passengers who heard His discourses left their seats and drew near Him. Among those who were moved and impressed was a Jewish lady, who was very enthusiastic and interested. The Master said to her:
It is obvious that you have a pure character, so I want you to become aware of the truth of divine matters. At the time of each Manifestation of God the people were heedless and ignorant of the truth except for a few who investigated and understood the divine words. The same is true today. So thank God that you have been endowed with capacity and desire to investigate the truth. Know this much: that the treasury of God is replete; He will shower the same bounties and gifts on those of this day as He showered on those of previous generations. We must endeavor to gain heavenly enlightenment, to understand the mysteries of the holy books, to become the cause of guidance to others and to illumine hearts. I pray that you may strive until you are blessed with these favors.
During this conversation people were surrounding the Master, eagerly and attentively listening to His words, which they considered to be both weighty and the truth.
The same woman came to Him again in the evening, saying that she wished to be educated so as to be able to convey the teachings to others. As her words and spiritual capacity were accepted by the Master, He gave her an account of Bahá'u'lláh, explaining the reasons for the opposition to His teachings and unfolding before her the teachings of the Supreme Pen. Meanwhile, two people with socialist views requested permission to be admitted into His presence. He spoke with them on matters concerning economics, universal peace, the unity of religions and the common weal. Their happiness was boundless. As they approached the railway station they asked 'Abdu'l-Bahá to give them His address and those of the Bahá'ís so they could write to them. Their request was granted.