Stories about 'Abdu'l-Bahá
Special meeting for black Bahá'ís at Kinney's – unable to attend the banquet due to hotel restrictions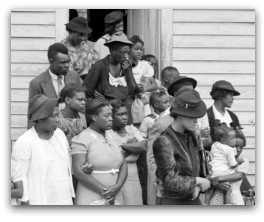 A gathering of black Bahá'ís was held at the home of Mrs. Kinney. They had been invited by the New York Bahá'ís to attend the banquet of the Covenant but when the proprietor of the hotel heard about it, he was not pleased. The more the friends endeavored to persuade him, the more vehement was his refusal. He said, 'If the people see that one colored person has entered my hotel, no respectable person will ever set foot in it and my business will go to the winds.' Such is the depth of prejudice between blacks and whites. Since it was impossible to invite the black Bahá'ís to the banquet, the friends arranged today's feast for their black brothers. Many white women came forward to serve their black guests, showering them with love. The Master approved of this meeting very much and He said:
Today you have carried out the laws of the Blessed Beauty and have truly acted according to the teachings of the Supreme Pen. Behold what an influence and effect the words of Bahá'u'lláh have had upon the hearts, that hating and shunning have been forgotten and that prejudices have been obliterated to such an extent that you arose to serve one another with great sincerity.
The Master's words made a great impression. The meeting embodied the grandeur of the Covenant and demonstrated the power and influence of the Cause in uniting, in sincerity and love, two races of humanity.