Stories about 'Abdu'l-Bahá
Saying farewell to friends in Washington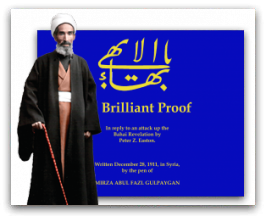 This was the last day of the Master's stay in Washington. An enthusiastic crowd assembled early at His residence. His talk covered various subjects. He encouraged the friends by assuring them that divine assistance and confirmations would descend upon them; then He counseled them to show firmness in the Cause of God. He also mentioned the book written by Mirza Abu'l-Fadl in answer to the objections of a Christian minister.
The friends and seekers continued to come to see Him until noon, at which time Mrs. Parsons invited a number of them to dine with Him. Private interviews were granted in the afternoon on the second floor. He responded to questions about the interpretation of dreams, firmness and steadfastness in the Cause of God, the futility of opposition, the teachings of the Abha Beauty, economic issues and so on.
The Master then came downstairs to a public meeting where He spoke on the oneness of the Divine Essence. At the close of His address, He bade everyone farewell.
A spirit of longing spread over the audience and with the utmost humility and reverence they begged His assistance and blessings. The fire of love blazed within them. After the meeting several people pleaded with Him to grant them private interviews. They were overjoyed when permission to ask a few questions was given. Some brought their children to receive His blessings.