Stories about 'Abdu'l-Bahá
Returning to Chicago from Kenosha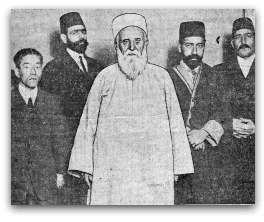 In the morning 'Abdu'l-Bahá prepared to leave for Chicago. The believers, 'like iguanas', gazed at Him with eyes like those of parting lovers. He remarked:
See what the power and influence of Bahá'u'lláh have wrought. Consider how He has brought the Japanese, the Americans and the Persians all under the shadow of one word and caused them to love one another.
Along the way He spoke of the steadfastness of the believers of the East. He arrived in Chicago in the evening and a continuous stream of friends came to see Him.